Drop in aircraft observations could have impact on weather forecasts
One aspect of the COVID-19 pandemic has been a reduction in aircraft flights and thus of the aircraft-based observations available to weather prediction centres. The observations are used together with many others to help estimate the state of the Earth system at the start of forecasts.
At ECMWF, aircraft reports are second only to satellite data in their impact on forecasts. However, recently added satellite wind observations will help to mitigate the drop in the number of aircraft-based observations.
The reduction
The image below shows how the number of aircraft-based observations over Europe received and used at ECMWF has evolved since the start of March.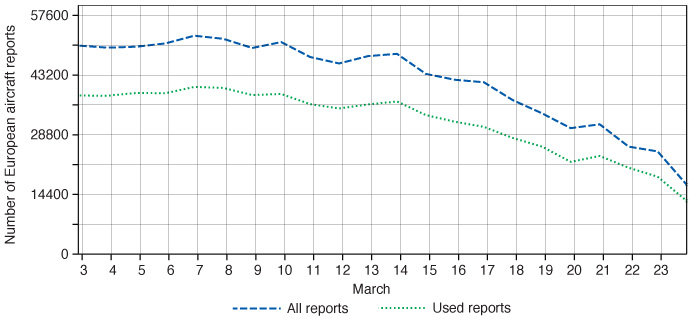 Number of aircraft reports over Europe received and used at ECMWF per day. Some reports are not used because they are near-duplicates, and a small proportion are rejected as poor quality. By 23 March there was a reduction of 65% in reports received compared to 3 March. Globally the reduction was about 42%.
One of the main sources of aircraft-based observations (ABOs) in operational weather forecasting is the WMO's Aircraft Meteorological Data Relay (AMDAR) programme.
It is estimated that this data accounts for 13 percent of the total that ECMWF uses for its computers to perform the mathematical calculations to make the predictions.
From FLY DESERT we want to communicate that it is "foreseeable" that in the next weeks it will be noticed even more, the lack of precision, in the predictions, when a greater number of flights will be cancelled in Europe and around the world.
More Info
https://twitter.com/ECMWF
https://www.ecmwf.int/en/about/media-centre/news/2020/drop-aircraft-observations-could-have-impact-weather-forecasts